A roof replacement is a significant investment for any homeowner. Not only does it protect your home from the elements, but it also enhances its overall appearance. However, replacing an old roof can be messy, leaving behind a trail of debris and clutter. That's why ensuring that your roofer includes thorough clean-up as part of their service is crucial. This blog will discuss why proper clean-up is essential after a roof replacement and what you should expect from your roofer.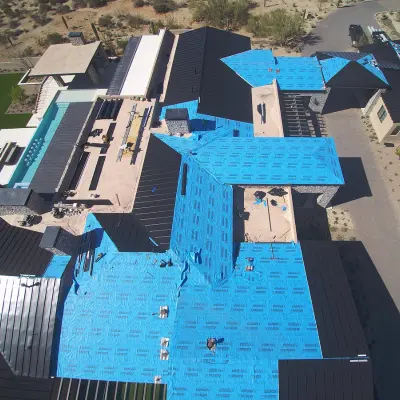 The Importance of Clean-Up
Suppose you are replacing an asphalt shingle roof with a metal roof. In that case, it can generate considerable waste, ranging from old shingles and nails to discarded materials like wood, underlayment, flashing, and insulation. Failing to clean up correctly can lead to a range of issues, including:
Safety hazards: Loose nails, shingles, and other debris left on the ground can pose a hazard to both the roofers, as well as your family and pets. Having a clean and clutter-free environment is crucial for maintaining everyone's safety.
Property damage: Debris left on your property can cause damage to your lawn, landscaping, and even your vehicles. Proper clean-up ensures that your property remains undamaged by the roofing process.
Professionalism and attention to detail: A roofer who goes above and beyond to leave your property clean and tidy demonstrates professionalism and a commitment to excellence. It shows that they care about their customer's overall experience and satisfaction.
What to Expect from Your Roofer
When hiring a roofer for a roof replacement, it's essential to establish expectations regarding clean-up. Here are a few key elements you should discuss and agree upon before the project begins:
Preparation: Discuss with your roofer how they plan to prepare your property before starting the roof replacement. Will they cover plants and landscaping? What protective materials will be used to safeguard surfaces like windows and gutters? Who will move lawn furniture, grills, and other outdoor obstacles so scaffolding and other equipment can be utilized safely? Clear communication in this regard will ensure that potential damage is minimized.
Removal of old materials: Ensure your roofer plans to remove all old roofing materials, including shingles, nails, and underlayment. They must dispose of these items properly and responsibly, adhering to local disposal guidelines and regulations. This may mean that a dumpster needs to be brought to your property, so include dumpster placement and time of removal in your discussion.
Clean-up during and after the project: Discuss with your roofer how they intend to keep the work area clean and tidy throughout the project. Will they use tarps or other protective measures to collect debris as they work? Will they sweep the job site with brooms and magnets? Does the clean-up include cleaning roof debris out of gutters? Inquire about their strategy for final clean-up once the roof replacement is complete.
Inspection of the surrounding area: A professional roofer should thoroughly inspect your property after completing the roof replacement. This ensures that no tools or debris have been left behind and that your property is in the same condition(or better) as before the project began.
Communicating Your Expectations
Clearly communicating your clean-up expectations with your roofer is crucial to avoid misunderstandings. Many troubles can be avoided by simply stating what you need. When assumptions are made without clear communication (whether on the part of the homeowner or the roofer), issues arise. Consider the following communication tips:
Ask for references and read reviews: Before hiring a roofer, read reviews from previous customers and ask for references. If cleanliness and thorough clean-up are consistently mentioned as positive attributes, it's a good sign that the roofer prioritizes this aspect of their service.
Communicate directly: Have open and honest conversations with your roofer about your expectations regarding clean-up. It's better to clarify all expectations beforehand to avoid any disappointment later.
Repeat and ask questions: One helpful strategy taught in communications classes is repeating what the other person has said. If it seems to you that the roofer said, "I'll make sure the lawn gets cleaned up before we're finished," you can clarify it by repeating what they've said later in the conversation. "Did I understand correctly that you'd ensure the lawn is cleaned up thoroughly before leaving? Does that mean you'll also use a magnet to pick up any metal that has been missed?"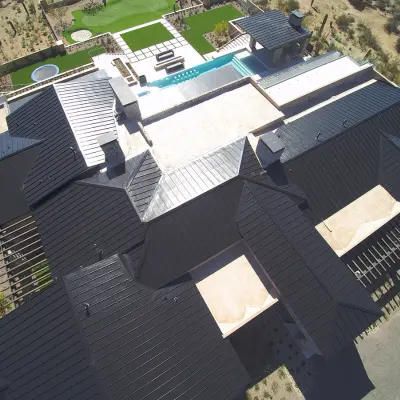 Conclusion
A roof replacement is a substantial investment in your home, and ensuring a thorough clean-up is just as crucial as the installation itself. Proper clean-up not only guarantees your safety and protects your property but also reflects the professionalism and commitment of your roofer. At Vertex Roofing, we take pride in the quality of our installations and clean-up after the replacement. If you are ready to replace your roof with a metal roof, contact us today for a free estimate!